Revolutionize Your Financial Management
Dynamics 365 Finance is a comprehensive solution designed to automate and modernize your financial operations. It provides real-time analytics, predictive insights, and robust financial intelligence, enabling you to make informed decisions, optimize cash flow, and drive business growth.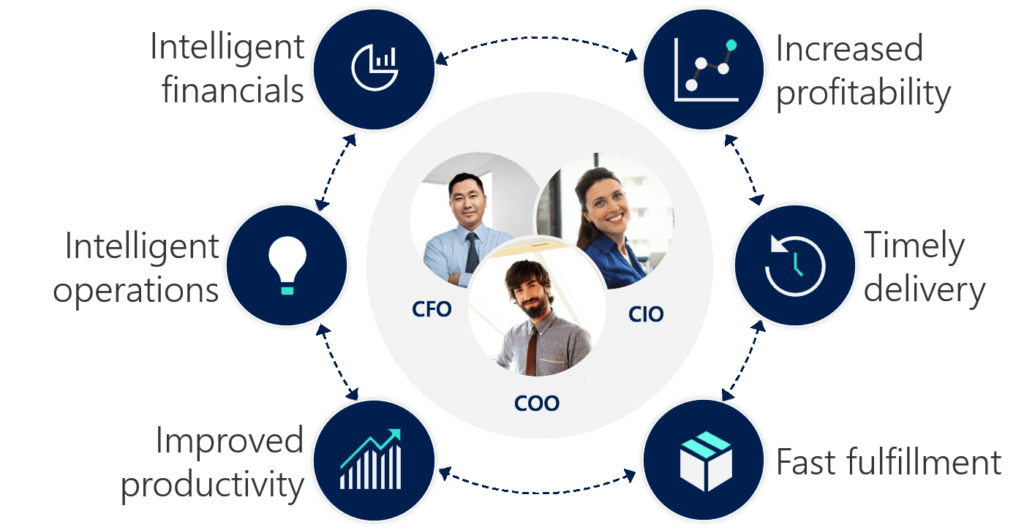 Harness Innovation to Transform Financial Services
Dynamics 365 – Elevate Your Financial and Business Operations
The Financial Services sector thrives on robust customer relationships. However, customer service alone isn't sufficient. Every facet of client-customer engagement plays a pivotal role in business expansion. In this context, enhanced customer loyalty equates to a significant competitive edge that can propel profits to new heights.

Intelligent Automation
Dynamics 365 Finance leverages AI to automate routine tasks, freeing up your team to focus on strategic initiatives. It simplifies complex processes, enhances productivity, and reduces operational costs.

Real-Time Analytics
With Dynamics 365 Finance, access real-time financial performance data. It empowers you to make informed decisions, identify trends, and forecast accurately, driving your business towards growth and profitability.

Predictive Insights
Utilize AI-driven predictive insights to anticipate future outcomes. Dynamics 365 Finance helps you forecast cash flow, manage budgets, and plan for future scenarios, ensuring business continuity and stability.

Global Financial Compliance
Dynamics 365 Global Finance ensures compliance with global financial regulations. It helps you manage risk, adhere to policies, and maintain transparency, thus safeguarding your business reputation.

Seamless Integration
Dynamics 365 Finance seamlessly integrates with other Microsoft solutions, providing a unified view of your business. It enhances collaboration, improves data accuracy, and streamlines operations across departments.

Scalability
Dynamics 365 Finance is a scalable solution that grows with your business. It allows you to add functionalities as per your evolving needs, ensuring you always have the right tools to manage your financial operations effectively.
Why Choose GetMax's Dynamics Solution?
Worldwide Presence – Being a global entity, we maintain a local presence in various time zones across talent-abundant countries.
Seasoned Specialists – Our team comprises certified experts with a cumulative experience of over 10+ years in Microsoft Dynamics solutions.
Comprehensive Understanding -Our team possesses extensive knowledge of products, industries, and solutions, enabling us to create solutions that align with customer needs.
Process-Driven Approach – We aim to enhance team collaboration and the progressive delivery of businesses by maintaining lean and agile processes.